---
PVC vs. TPO Roofing: Pros and Cons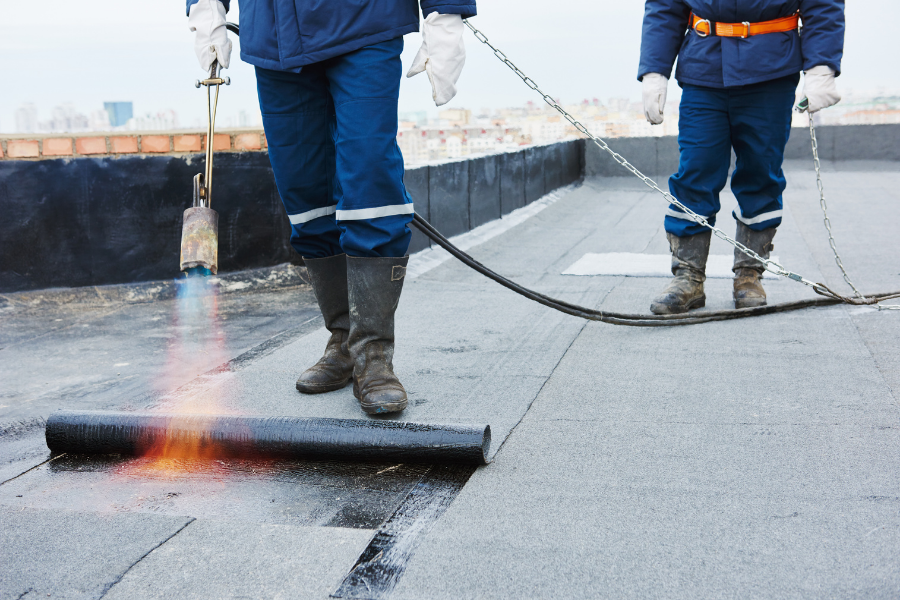 When it comes to commercial properties, PVC vs. TPO roofing is a popular debate. Both materials offer advantages, but which one should you choose for a new build or roof replacement? 
This guide will help you understand the pros and cons of each type of roofing system so you can make the right decision for your building.
What Is PVC roofing?
PVC roofing is a type of single-ply roofing material made from polyvinyl chloride. It is a popular choice for commercial roofing because it's durable, energy-efficient, and resistant to chemicals, punctures, and UV rays. 
PVC roofing is also easy to maintain, making it an excellent long-term investment for building owners. However, it can be more expensive than other roofing materials.
What Is TPO roofing?
TPO roofing is another type of single-ply roofing material made from thermoplastic olefin.  Though slightly newer than PVC roofing,  it has quickly gained popularity in the commercial roofing industry. 
Like PVC, TPO is known for its energy efficiency, as it reflects sunlight and reduces cooling costs. And also like PVC, it's resistant to punctures and tears.
TPO roofing is typically less expensive than PVC roofing, making it a more budget-friendly option for building owners. However, TPO is not as resistant to chemicals; therefore, if your building is exposed to grease or harsh chemicals daily, it might not be the best option.
Durability and Lifespan of PVC vs. TPO Roofing
Regarding durability and lifespan, PVC roofing is known for its strength and ability to withstand harsh Midwest weather changes (i.e., hail, snow, strong winds, etc) and potential threats against your building (i.e., fire, harsh chemicals, etc). It also has a longer lifespan than TPO roofing, with some PVC roofs lasting up to 30 years or more. 
On the other hand, while TPO roofing may be less durable and have a shorter lifespan of around 20 years, proper installation and maintenance can significantly impact its longevity. Therefore, hiring the right roofing contractor makes all the difference, regardless of which material you choose.
Energy Efficiency and Environmental Impact
As mentioned, both PVC and TPO are known for their energy efficiency. PVC roofing, for example, is highly reflective, which means it can reflect sunlight and reduce the heat absorbed by your building. This can lead to lower energy costs while keeping your employees and customers comfortable in the process.
In fact, Duro-Last, a leading manufacturer and supplier of single-ply PVC roofing membranes, offers reflective and durable roofing systems that improve energy efficiency and reduce waste. Utilizing the post-industrial scrap from its manufacturing process, the company recycles this leftover material into new membranes, offering commercial owners a sustainable roofing option. 
At All Elements, Inc., we're proud to offer professional Duro-Last installation to commercial customers throughout the Midwest.
To learn more about Duro-Last, contact us for a quote! 
Cost and Installation Considerations
Although PVC roofing tends to be more expensive than TPO roofing, remember that it's known for its durability and longevity, making it a worthwhile investment in the long run. 
Installation considerations also differ between the two materials. For example, PVC roofing requires hot air welding, which can be more complex and time-consuming, which is why hiring a professional is key! 
TPO roofing can be installed using various methods, including hot air welding, adhesive, and mechanical fastening. But again, proper installation is the only way to ensure your roofing system, regardless of its material, is built to last. 
PVC vs. TPO: Which Will You Choose?
Deciding between PVC vs. TPO roofing can be a daunting task. But the good news is we can help! Our team can assess your commercial roof, work with you to understand your goals and budget, and help you find the best solution for your building and operations.
To request an inspection of your commercial roof, or if you'd like to schedule a consultation about a new build or roof replacement, contact us today!