---
When Is It Time to Repair, Recover, or Replace a Flat Roof?
By: Paul Levisee
Commercial Low Slope ("flat roofs") roofing systems are designed for long-term performance with warranties ranging between 15 years to 30 years.
Many, however, can still develop problems during their expected lifespan, especially if a roof is designed incorrectly, installed wrong, or improperly maintained. Far too often, roofers come across roofing that begins failing or is in need of attention long before the expected life of the roof is over.
Do I Need Flat Roof Repair or Replacement?
When looking to fix a problem with your commercial roof, there are a few options to consider: 
Repair

Recover

Replacement
Before you can decide, you'll want to ask yourself the following questions first, as this will help guide you in the right direction.
What is the condition of the roof? 

Is there damage from traffic, negligence, debris or storms?

How much of the roof is damaged? 

How badly is it damaged? 

Is there wet insulation or substrate? 

Has it damaged the roof deck or joists?

Does it have the proper amount of insulation for what the building is being used for?

How easy would it be to tear off? 

If the price difference between a full tear off and a re-cover is small, tearing the roof off and installing an all-new roof system with current Energy Code R Value and positive water flow would be the better option.

Are you looking for a long-term or short-term solution? 

Is the building scheduled for demolition, but you need a short-term solution? 

Are you planning an addition or planning to sell? 

How long will you remain in the building? 

Is selling with a warrantied roof a plus or is the cost a negative?

What is the building used for? 

Is it heated and/or cooled?

Do the activities in the building create moisture (pool, manufacturing process, refrigerated or freezer space)? 

If so, it may not have the correct roof or improper ventilation could have resulted, which means a repair or re-cover may not eliminate all your water issues.
To help you get started on choosing the best roofing solution for your flat roof, we've put together a few different options (and the benefits of each) to help you determine the right path forward:
Flat Roof Repair
Some problems on a roof can be minor or easy to repair. In these cases, replacement is usually not needed. Here are some reasons you may choose to repair the roof:
The membrane or base material are in good shape and have not met its life expectancy

The roof has adequate insulation and the insulation is dry and not crushed

You want to keep the cost down and budget for a capital expense in the future
Benefits of Flat Roof Repair
Less costly than a re-cover or replacement

Extends the life of the roof and allows for budgeting for future replacement
Flat Roof Recover
Not every damaged roof needs to be replaced. If the roof is functioning properly and has good insulation, the most cost effective solution would be to perform a re-cover. In most cases with a low slope roof (flat roof), if a building has only one roofing system installed you can install another single ply roof over the top. 
Here are some reasons you may want to recover your roof:
The roof has good insulation, but the membrane has met its life expectancy

The roof has proper drainage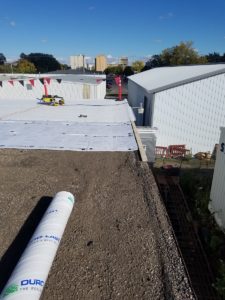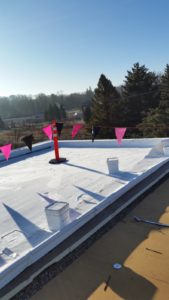 Benefits of a Flat Roof Recover
Less expensive than a full replacement

Less disruptive than a full tear-off

Less time from start to finish for installation

New warranty would be provided
Flat Roof Replacement
If a roof has been neglected for too long, or if damage to the membrane is too severe for a re-cover to be considered, then a full replacement may be needed. 
Also, if a roof has been recovered once before and now has two roofing layers, a recovery may not be an option. 
Lastly, when repairs that have been made are failing, you will need to replace it. 
Here are some reasons to replace a roof:
The roof is in need of major repair and costs begin to reach higher than the typical repair budget

Insulation is showing buckling, soft spots, or saturation

If you are looking for a long-term solution

If you are looking at new technologies for your roof like a solar or Energy Star rated roof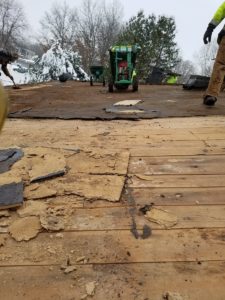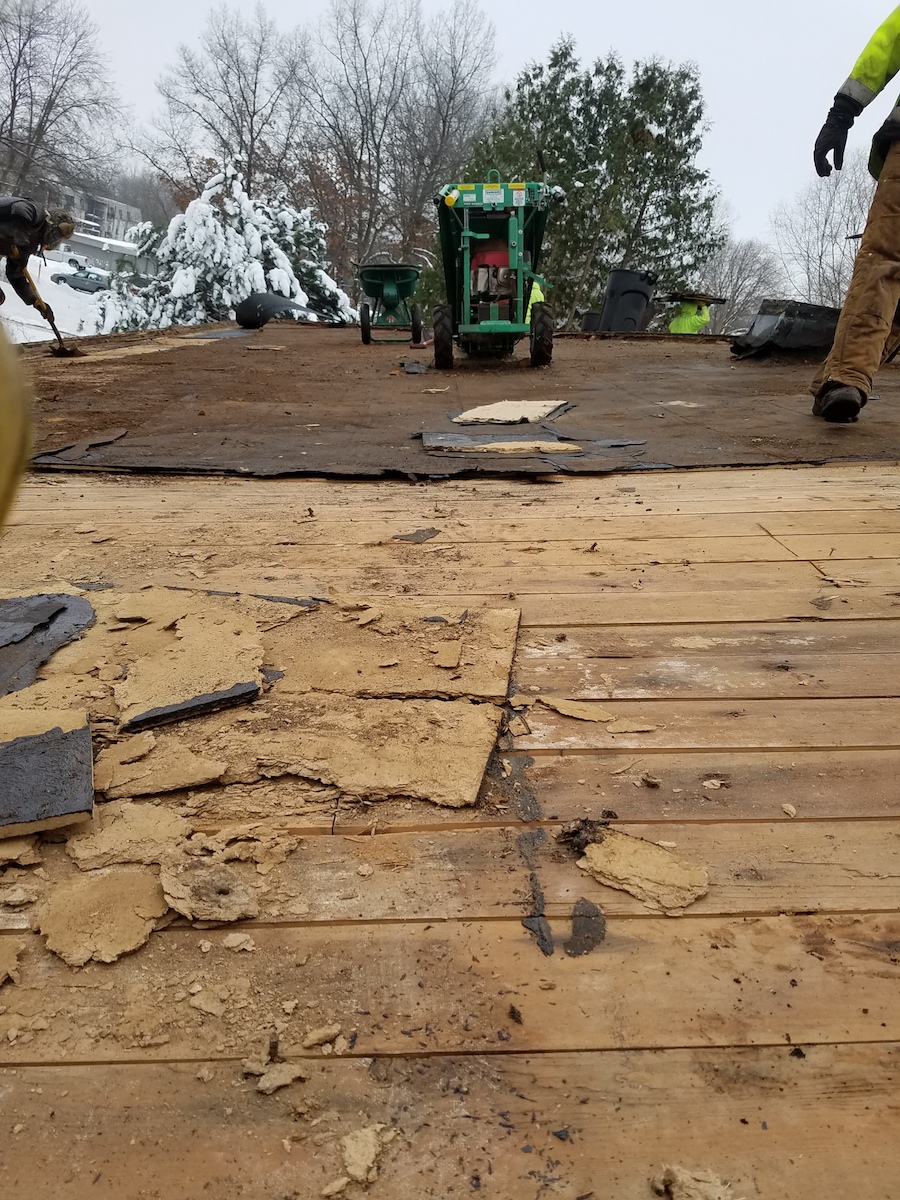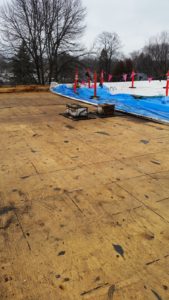 How To Know If You Need a Flat Roof Replacement?
A sound and solid roof plays a vital role in protecting your home. A compromised roof won't protect your house from water damage, such as structural rot, mold issues, electrical problems and compromised insulation.
It's important to inspect your roof twice a year, ideally in the spring and the fall. When you clean your gutters is a perfect time to assess its condition.
First, check from inside the house and attic. Keep a look out for the following conditions:
Sagging ceiling or roof deck

Signs of leaks or water damage

Dark spots and trails

Daylight showing through the roof

Confirm all bath, kitchen and dryer vents discharge entirely outside of your home, not just into the attic space.
Next, check the ground around your home for shingles or shingle fragments that have blown off the roof. Excessive shingle loss suggests it's time to replace the roof.
Now pull out that ladder and check your gutters. This is important: Take every safety precaution when climbing ladders or getting on the roof. If you can't do it safely, call a professional.
Inspect the gutters for excessive shingle granules (they look like large grains of sand), a sign of advanced wear

Make sure gutters and downspouts are securely attached

Check that all drains are open and allow water to exit

Confirm all gutters and downspouts are free of debris
Lastly, inspect the roof itself. Look for:
Damaged flashing

Missing shingles

Damaged shingles: note any rotting, curling, blistering, buckling, cupping, torn, cracked, worn or bald shingles

Loose material or wear around vents, chimneys, pipes or other penetrations

Moisture or mold. Note that wet spots may not be directly under your faulty shingle; water can travel down to its lowest spot before it drips

Algae growth, which is most common in humid climates and appears as dark or greenish stains

Moss–it grows on surfaces that don't get much sunlight, especially in cool, moist climates. Because it holds moisture against the roof surface, it can cause damage to the layer of granules on the shingles, especially in freezing climates
Benefits of Flat Roof Replacement
Usually the better option if customer plans on keeping the building for the long-term

Lower maintenance cost

Energy savings; in most cases added insulation will be required
Need a Flat Roof Repair or Replacement?
With all of the above information in mind, it's always good to find a trusted roofing professional to do an inspection on the condition of your roof.
Many companies will offer a free inspection to figure out what stage the customer's roof is in. After that, it will typically offer an annual maintenance program. These programs will cover basic upkeep like cleaning scuppers, inspection of base flashings, basic caulking issues, and a visual inspection of roof surfaces.
Wondering what stage your roof might be in? Contact our team today. We'd be happy to conduct an inspection of your roof or answer any questions you might have!