---
Winter Roofing, Planning for Spring Roofing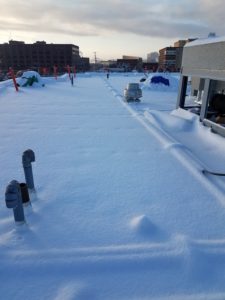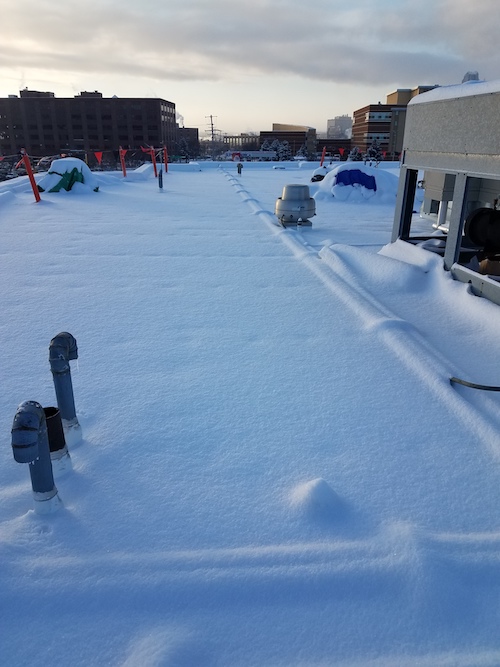 It happens every year about this time, our friends and family will say something like "…so must be slowing down for you about this time of year?", or maybe "must be nice to take the winter off" and I enjoy the look on their face when I respond, "for the flat roofers, we don't take the winter off, matter of fact, our busiest time of year starts in September".
How do you roof in the winter, do you shovel the snow? Yep, shovels, snow blowers, powered sweepers, ice chippers, the whole tool shed at times.
"Why"?
Because there are times where the roof leaks bad enough that the extra work and extra cost are worth it to avoid damage to the building when the spring thaw arrives.
Not every building can be re-roofed in the winter months and if you know it will be a winter project there are some deadlines that are "hard" and fast.
Rocks freeze to the building. The remaining moisture in the ballast system keep the rocks frozen to the roof, if the rocks aren't off the roof re-roofing has become much more work. If the rocks are small, as in a Built-Up Roof system, they still need to be off the roof. Normally when re-roofing over a ballasted system you simply push the fasteners through the built-up asphalt membrane. In the winter, the asphalt is as frozen as the asphalt in a road and the underlying felt and insulation can contain frozen moisture that will melt and could cause drips in the spring as the system thaws out. It's not really a leak, but it is moisture leaving the roofing system and entering your building.
If you have a Built-up roof and the plan is to tear off the existing roof all the way down to the roof deck, you're in luck. If you are going to tear off any type of roof, it can be completed in the winter.
Metal roofs can be recovered with metal panels or be retro-fit with insulation and a single ply membrane. They can't be very steep because there is less traction with frost, dew, ice, snow and cold.
Shingles roofs are not recommended to be roofed in cold weather because they need the sun and warmth to seal after installation. Yes, there are times and conditions where you need to shingle in cold weather, but these are few and far between.
Contact us if you're looking to get your winter roofing project scheduled or to plan for your spring roofing project!