---
Winter Prep For Flat Roofs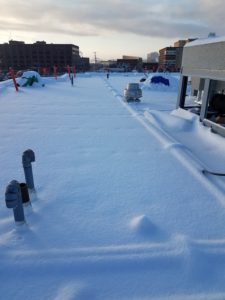 Fall starts officially on Monday, September 23, and anyone with a flat roof should get it thoroughly inspected to ensure it's ready for the freezing temperatures of the winter season.
Fixing a roof is much easier (and therefore cheaper) when it isn't under a thick layer of snow and ice, so it's a smart investment of time and money to clear off any debris and make sure the roofing and seams are all intact and prepared to provide a barrier against moisture for another season.
Melt/Refreeze Cycle Spells Trouble
Here's what happens on a roof during the winter. Snow piles up, and eventually some melting will take place. This may be caused by a warm snap, heat penetrating the roof's insulation, or the advent of spring. As the temperature creeps above freezing, snow will melt and puddle on a flat roof. Temperature drops resulting from night-time cooling or from natural weather fluctuations cause a cycle of melting and re-freezing. It's this melt/re-freeze cycle that spells trouble for flat rubber roofs.
Freezing Jeopardizes Roofing Seams
Flat rubber roofs have seams anywhere two or more pieces of rubber meet. While roofing technology has advanced in terms of materials and techniques, these seams remain the most vulnerable part of a roof. Ice may be their greatest challenge. As melted snow re-freezes, the water expands, which tends to pull the seams apart and generate leaks. Depending on the rhythm of the season, such a leak may not be detected until springtime.
Wintertime Repair Challenges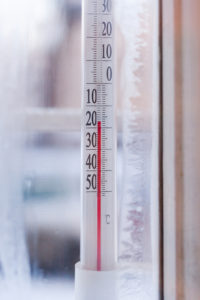 A wintertime leak on a flat roof is a challenge to repair for a variety of reasons:
Ice and snow make access dangerous
It's difficult to remove snow and ice without damage to the rubber membrane, or to the felt, asphalt and rocks which characterize a built-up roof
Melting the snow by applying heat introduces increased water which is liable to puddle, leak and interfere with the repair
Primers, glues and caulks often require minimum temperatures of 30-40oF to function well
Inspecting and repairing a roof before it confronts the challenge of snow and the freeze/thaw cycle is the smart way to go, especially if it's an older roof and/or has displayed leak problems in the past.
Some Winter Repairs Are Possible
It may be counterintuitive, but it's often easier to replace a roof in the winter than to repair it. If the replacement plan includes a total tear-off, that can be done during the winter season.
Metal roofs can be recovered with metal panels or be retro-fit with insulation and a single ply membrane during the winter. However, this may not be possible on a steep roof due to reduced traction during freezing conditions. When they can be safely accessed, metal roofs can often be repaired during freezing conditions.
Shingle roofs should not be applied in winter conditions, because they need the warmth of the sun to seal after installation.
TPO and PVC roofs are typically patched with a hot air tool. TPO and PVC roofs have a higher success rate for winter repairs because when you shovel off the snow and clear up the ice there is not typically a layer of standing water below. If the roof can be cleared and cleaned it can usually be repaired.
Ultimately, each leak has to be handled on a case-by-case basis to determine whether a repair will be successful.
Schedule a Fall Roof Inspection
Weather patterns are increasingly unpredictable, so make sure you cross this item off your list before your roof is covered by snow. Contact All Elements for a thorough fall inspection. We'll check out your membranes and seams and help you make the right decision moving forward to ensure a leak-free winter. Contact us today.