---
This harsh winter has many asking, "How much insulation is enough?"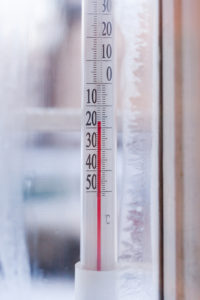 In the past couple of weeks, it feels like old man winter came to visit and really liked the area. Daytime high temperatures below zero, lows at -20 or lower and dangerous "feels like" temperatures were a quick reminder of how harsh our winters can be.
Extreme cold does have damaging effects on your roof for a number or reasons like the expansion of water as it freezes, the difference in the rate of expansion between roofing materials and freezing of materials causing failures, etc. It may also make you think, "Do I have enough insulation"?
How much insulation is enough?
Department of Energy (DOE) codes, American Society of Heating, Refrigerating and Air-Conditioning Engineers (ASHRE) standards, the International Building Code (IBC), as well as state and local codes all specify R values for above the roof or in the attic insulation and frequently they do not have the same recommendation.
The guidelines set by the United States Department of Energy show Minnesota, Wisconsin, North Dakota and South Dakota to be in Zone 6 or 7. In both zones the DOE specifies R49 to R60 for attic insulation in homes. Commercial roofs with insulation above the roof deck will either be R30 in zone 6 or R35 in Zone 7.
Many existing buildings have R23 because as recent as 2011 the Energy code was R23 for above deck insulation and R19 prior to that.
ASHRE has an entirely different scale dating back to 2009 with R20 for all climate zones.
So, how much is the right amount?
Start by checking with your local Building Official. If they enforce an energy code they should be able to tell you what R value they are looking for on your building.
If you are re-roofing, how much more insulation will fit without altering portions of your building?
If you are looking at blown-in or fiberglass batt insulation in the attic, in general terms, there's always room for a little more. Typical construction in our area does not have mechanical units or other equipment mounted in the attic so adding a few more inches of insulation isn't a problem.
If you are using fiberglass, you are looking for somewhere between 13 and 17 inches to achieve the R49 to R60. If you are using blown-in insulation, typical values will mean you are looking for somewhere between 17 and 20 inches to achieve R49 to R60.
Adding insulation above the roof deck can be trickier. What elevations are your plumbing vent stacks, your HVAC curbs, the roof hatch and the parapet walls?
Membrane manufacturers as well as various building codes require 8 inches of space from the flat roof membrane up to a penetration. If you need to add four inches (Approximately R23 with PolyIso insulation or R15 with Expanded Poly Styrene) there may not be enough room between the membrane at the roof penetrations. At that point you will need to work with your local building official and the roofing contractor to achieve an acceptable solution.