---
My Roof Suffered Storm Damage – Now What?
By: Paul Levisee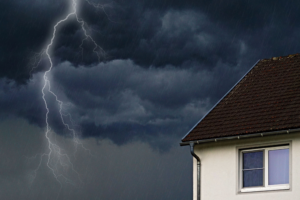 There are certainly precautions homeowners can take to gird up their roofs against storm damage. Top-of-the-line roofing materials installed by reputable contractors, roof warranties, biannual roof inspections…these are all excellent steps! Oftentimes, however, Mother Nature takes her toll in spite of our best efforts and we're left to navigate the after-effects of storm damage. After a storm rolls through, there are some important things to look for when assessing the integrity of your roofing materials. Should you encounter damage, it's important to follow a few easy steps to ensure timely repair.
Storm damage: What do I look for?
There are an abundance of elements that threaten the integrity of your roof…wind, rain, snow, hail…and as a result, ensuing damage can take many forms.
When assessing your roof, pay special attention to:
Shingle condition
Are any shingles missing or noticeably out of place? Are there dents from hail or branches? Are your shingles suffering granule loss? Those little granules have a big job. They protect shingles from UV rays that cause roofs to age and deteriorate.
Flashing
Assess flashing around vents, chimneys and other roof protrusions to make sure it's still fastened securely in place.
Sealant
Check around roof edges, vents and chimneys and make sure sealant is intact.
Also, be sure to check for water damage. This is particularly important after extremely heavy rains or if you discover damage to the above-listed roofing components. Check attic insulation for moisture and check around your ceiling for water intrusion. Keep in mind, however, that if your insulation is dry and there aren't visible signs of water damage on your ceiling, that doesn't mean your roofing membrane wasn't compromised and didn't take in moisture. Even the smallest amount of moisture can eventually lead to rotting underlayment, mold and other significant problems.
My roof is damaged. How do I proceed?
If, upon careful inspection, you notice that your roof has sustained storm damage, it's time to take action.
If you suspect water seepage, tarp your roof in order to prevent further damage. Lay a tarp over the compromised roofing, place 2×4 boards over it and nail it down.

Contact your insurance company and file a claim.

Contact reputable roofing contractors and gather a few estimates for repairing or replacing your roof. When a storm causes widespread damage, reputable contractors in your area may be booked out for awhile. However, the good ones are worth the wait! Be wary of fly-by-night "storm chasers" who may promise quick service but who may or may not be insured or qualified!

Make sure that your chosen contractor is onsite when your insurance company sends out an adjuster to document the damage. Your contractor is your advocate!
If you sustain storm damage this season, remember All Elements! We would be happy to provide you with a thorough, professional and timely estimate so you can get your repairs underway and avoid further damage! We can be reached at 763.314.0234.