---
How To Identify Roofing Hail Damage and File an Insurance Claim
If you own a home or commercial building, it's only a matter of time before you experience some sort of storm damage to your roof. When hail hits, it can cause damage which, when not taken care of promptly, can lead to roof leaks.
But unless the damage is severe, it can often be difficult to determine if your roof does indeed have hail damage. And once you have confirmed the damage, filing a hail damage insurance claim can feel daunting.
Here's how to determine if your roof has hail damage and the steps you need to take to file an insurance claim.
Factors That Affect the Type and Degree of Hail Damage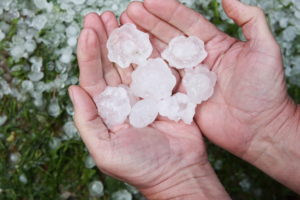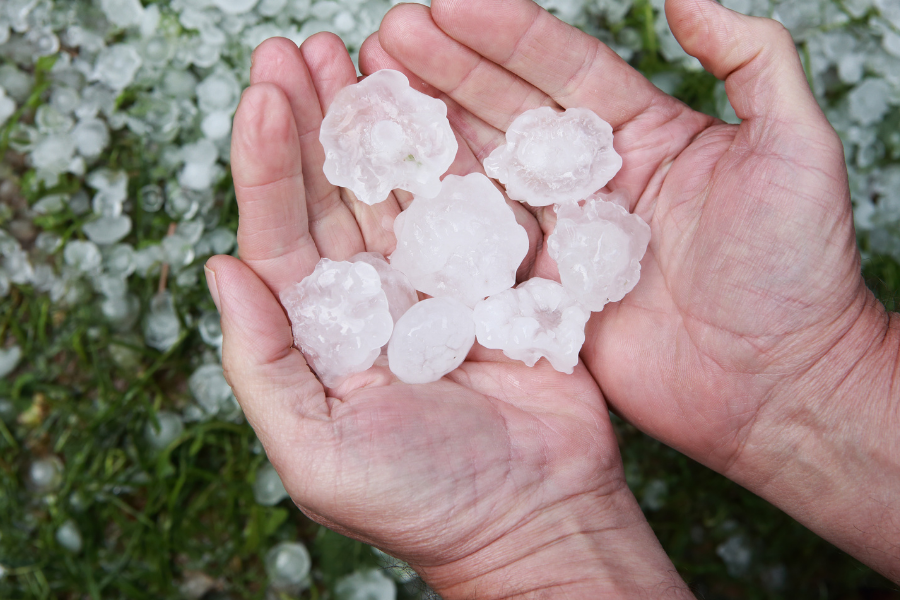 Hail is inconsistent and irregular — and so is the damage it causes. It's all too common for one building to have severe damage after a storm and the one next door to have less damage or none at all. It's also common to see hail damage on one side of your roof and not the other, especially if it has a steep slope.
This is because there are several factors that can affect the type and degree of hail damage your roof sustains from a storm. Here are a few of them:
Hail size. Roof hail damage typically occurs from hail that is 1.5" diameter or larger. Pea- or dime-size hail doesn't typically have enough weight to cause damage to your roof. Even golf-ball-size hail, on its own, doesn't always damage a roof — it needs significant wind behind it to cause noticeable damage.
Wind. Strong winds can cause even small hail to damage your roof. Wind direction and speed can vary throughout a storm, and changes in wind conditions can determine the location and severity of roof hail damage. We have seen damage from hail as small as 1" due to wind gusts.
Roofing material. Different materials absorb the impact of hail differently. The same hail can create dents in asphalt shingles, ding metal roofs, and cause wood shingles to crack. But since flat roofs are designed to be resistant to things like foot traffic, debris, and even hail, it's not always immediately evident that damage has occurred. With a flat roof, you may not notice damage until after a freeze-thaw cycle, at which point it typically looks like a spiral fracture.
Barriers. Neighboring structures and natural barriers like adjacent buildings or trees can form a buffer, reducing hail damage to your roof.
What Does Roof Hail Damage Look Like?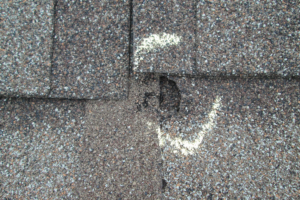 Hail damage can happen with any type of roofing material, but each material will react differently to being struck by hail.
With asphalt shingle or metal roofs, the damage will be more obvious than with a flat roof. In most cases a metal roof will sustain cosmetic damage, such as dents on the flat portion of standing seam panels or anywhere on exposed fastener panels
Damage to asphalt or composition shingles will look random, with no discernible pattern, and may include hail hits that look black in color or are soft to the touch, like a bruised apple. Asphalt shingles can also suffer granular loss on the shingle, where granules are knocked loose, exposing the asphalt or even the roofing felt. This can look like a dotted pattern on the shingles.
While this level of roofing hail damage won't necessarily create an instant leak, the exposed asphalt will break down in the sun — similar to the way it does on a paved road — creating a hole in the shingle over the course of time.
Hail damage to low-sloped roofing materials, RTU's, and edge metals can vary depending on the size of the hail and the roof makeup. As mentioned above, flat roof hail damage generally becomes evident after a winter season and will look like spiral fractures. These fractures are generally clustered together and are easiest to see on a white membrane roof due to dust and dirt settling into the fracture lines.
To know for sure if the marks you see on your flat roof are leaks, you can use one of two methods. Either of these methods will work equally well to reveal a leak:
Cut the membrane open and look for a wet substrate and/or saturated insulation and wood fibers.
Use thermal imaging to highlight any temperature differences between the damaged area and the rest of the roof.
Once you've determined that you have roof damage due to hail, it's time to file a hail damage insurance claim.
Filing a Roofing Hail Damage Insurance Claim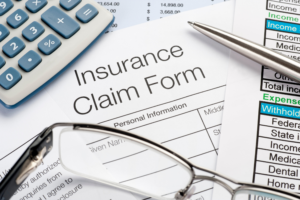 Prior to contacting your insurance company to file a claim, the first thing you need to do is to have your roof inspected by a trusted contractor.
Fair warning: there are many storm-chasing companies out there who train their employees to sign people up for hail damage roof repair, even if there isn't any physical damage present. This is one of the many reasons it's so important to choose a quality roofing contractor.
When hiring a contractor, interview at least three reputable local contractors before choosing the one you are most comfortable with. Have each company you interview inspect your roof and document the damage with photos.
Once you have confirmation of the hail damage you can contact your insurance company to file a claim. Be prepared to provide them with the photos and estimate you received from your contractor. Then, when the insurance company sends out an adjuster for an inspection, make sure your contractor can be there to meet with them. Your contractor will act as your advocate, ensuring the adjuster provides you with a fair assessment.
If your claim is initially denied, don't worry — you can request a second opinion. Any roofing hail damage can devalue your structure, and even minor damage should be fixed immediately so it doesn't lead to bigger issues down the road.
One final note: Most insurance companies have a set time limit to file a claim, so don't delay in filing your hail damage insurance claim.
Trust All Elements for Your Hail Damage Roof Repair
At All Elements, we'll stand by your side to walk through the insurance claim and hail damage roof repair process with you. Contact us today for a free inspection to determine if you have hail damage to your roof.