---
Featured Project: Union Gospel Mission, St Paul, MN
All Elements completed roof repairs at several of the Union Gospel Mission buildings in Saint Paul including the Christ Recovery Center, Men's Dorm and Oberg Community Center.
Dustin Hesse was asked to inspect several roofs by the Manager of Building Maintenance for the Union Gospel Mission, Twin Cities. Dustin found a history of repairs and current leaks, it looked like further repairs would not provide a long-term solution and this began the discussion about possibly replacing some of the roofs, in the end Union Gospel Mission Twin Cities chose to re-roof.
The roof on the Men's Dormitory Building was an asphalt built-up roof system. The roof had areas of blistering and cracking throughout the roof and many of the penetrations (pipes, curbs, etc.) had cracks in the flashing as well. Another challenge was the number of air conditioning condensers on the roof, they were in a line on the center of the roof, making a type of walkway. Working with the Building Owner and the HVAC contractor the units were re-located to an area where service access was available and roof was simplified.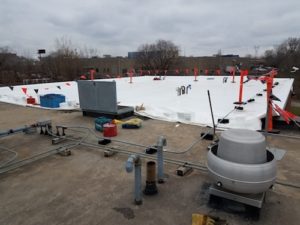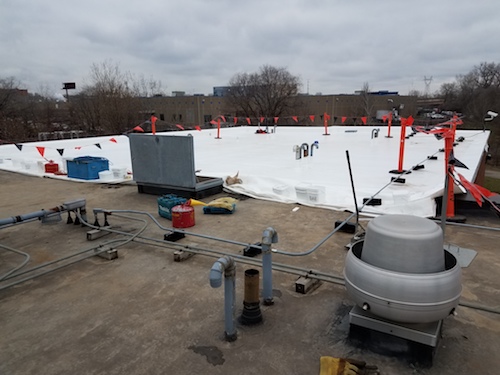 The Christ Recovery Center was a ballasted EPDM (rubber) system showing the signs of its aging. "The membrane was pulling from the parapet walls and the HVAC curbs, the seams were splitting" Dustin tells us. "I had proposed to install a 40 mil Duro-Last PVC membrane on both buildings". After reviewing the proposals, the decision was made to use All Elements and Duro-Last on these two roofs. All Elements had successfully completed repairs on various roofs at the Union Gospel Mission.
Both buildings will enjoy the Duro-Last Warranty that includes Consequential damages.