---
Featured Project: Moon Motors of Monticello
After adding on to existing building, Moon Motors of Monticello wanted the certainty of a Duro-Last roof on the new addition but the existing roof was in great shape. The question was raised, could the two roofs successfully touch each other? They needed more space and knew the advantages of a Duro-Last PVC roof: things like a No Dollar Limit Warranty that does not include exclusions for ponding water, covers labor and materials for the entire length of the warranty, and includes coverage for consequential damages that result from a warranty leak.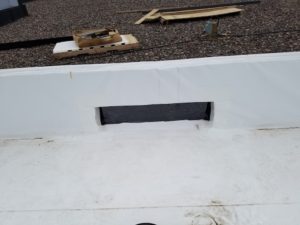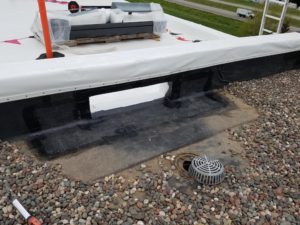 All Elements, Inc. was able to install an Energy Star rated 50 Mil, White PVC Duro Last roof on the new expansion and terminated onto the existing ballasted EPDM (rubber) roof. Exceptional Metals was able to manufacture a pre-fabricated, through the wall supper, with a weld-able skirt for the Duro-Last side and new EPDM was glued to the existing roof side. The remainder of the over the parapet wall termination was accomplished with a simple termination bar installation.

As a result, Moon Motors received a new, Duro-Last roof on the expansion and the existing EPDM roof remained intact and in its pre-construction condition.