---
Duro-Last® for Commercial Roofs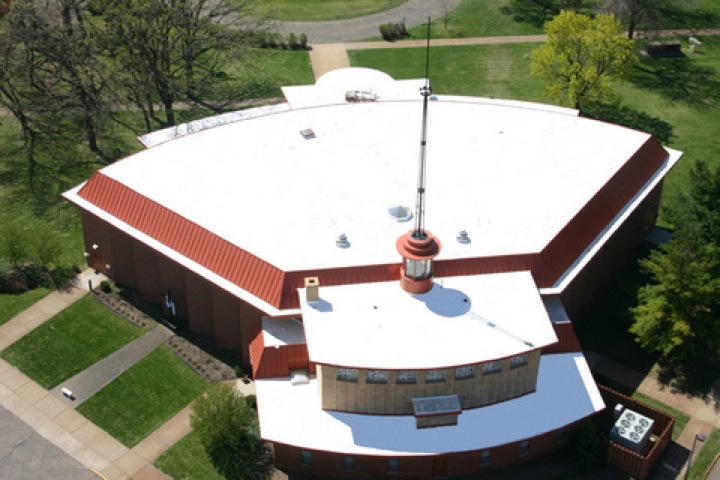 We've helped commercial property owners construct and replace roofs in the Midwest area for years. So, whenever it comes time to choose the best quality roofing materials, customers count on us to deliver a reliable solution that lasts.
One commercial roofing system we install and recommend for many commercial roofs is Duro-Last®—and you're about to discover why it's called The World's Best Roof®.
Duro-Last is the leading manufacturer and supplier of single-ply PVC roofing membranes. PVC stands for polyvinyl chloride, which offers a robust and durable commercial roofing system that's low maintenance, highly flexible, and fire and water-resistant.  
You've probably seen white PVC membranes on many commercial buildings, but the truth is that homeowners are also taking advantage of PVC roofing. 
The reason?
PVC roofing offers property owners a strong yet lightweight, low-maintenance roofing material that cuts down on utility expenses! But let's get back to why so many commercial property owners count on Duro-Last for a reliable, durable solution. 
Whenever you see the word "Duro-Last," think of "energy efficiency." Duro-Last offers reflective and durable roofing systems that reduce waste by recycling membranes. In fact, the company utilizes post-industrial scrap from its manufacturing process to create new membranes and other products, such as walkway pads and resilient flooring, making it 100% sustainable. 
For commercial owners, Duro-Last offers a high-quality, sustainable solution, which could mean tax benefits for your company.
FAQs about Duro-Last Roofing Systems
Are you considering a new commercial roofing system in 2023? In this section, you'll find the answers to commonly asked questions about this sustainable roofing solution.
How Long Does a Duro-Last Roof Last? 
Since "last" is in the name, you've probably guessed that Duro-Last PVC membranes have a longer shelf-life than other roofing systems. And you'd be correct. 
With regular inspection and routine maintenance (which is generally low), you can expect your Duro-Last roof to last up to 30 years. They also come with competitive warranty packages to protect your roofing investment.
How Is Duro-Last Made? 
As mentioned, Duro-Last is made of single-ply PVC roofing membranes. In addition, Duro-Last roofs are prefabricated, which means most of their seams are manufactured and welded together at an off-site location. 
Afterward, the prefabricated membrane is installed on top of your commercial roof, cutting installation time in half! 
How Much Does Duro-Last Cost? 
Whether you choose Duro-Last or TPO membrane, the total cost of the investment will depend on several factors:
New vs. existing roof

Size of the roof

The current structural condition of the existing (remember, PVC goes over the existing roof)

Inventory availability
Due to the quality of its material, Duro-Last is higher in terms of the initial cost. Still, it provides incredible energy efficiency, saving your building in utility costs and significant maintenance or repairs later.
To get an accurate quote, you'll want to call a local Duro-Last installer near you!
Where Can I Find Duro-Last Contractors?
Glad you asked! We happen to know a good one. At All Elements, Inc., we're a  Duro-Last Platinum Contractor, specializing in Duro-Last installation for commercial properties. 
Our team is proud to offer and install this quality product that we believe helps protect the environment and promote the use of sustainable materials that deliver superior performance and protect you from all the elements.
To learn more about Duro-Last, or to request a quote, contact us today!