---
Advanced Extrusion Roofing Project Case Study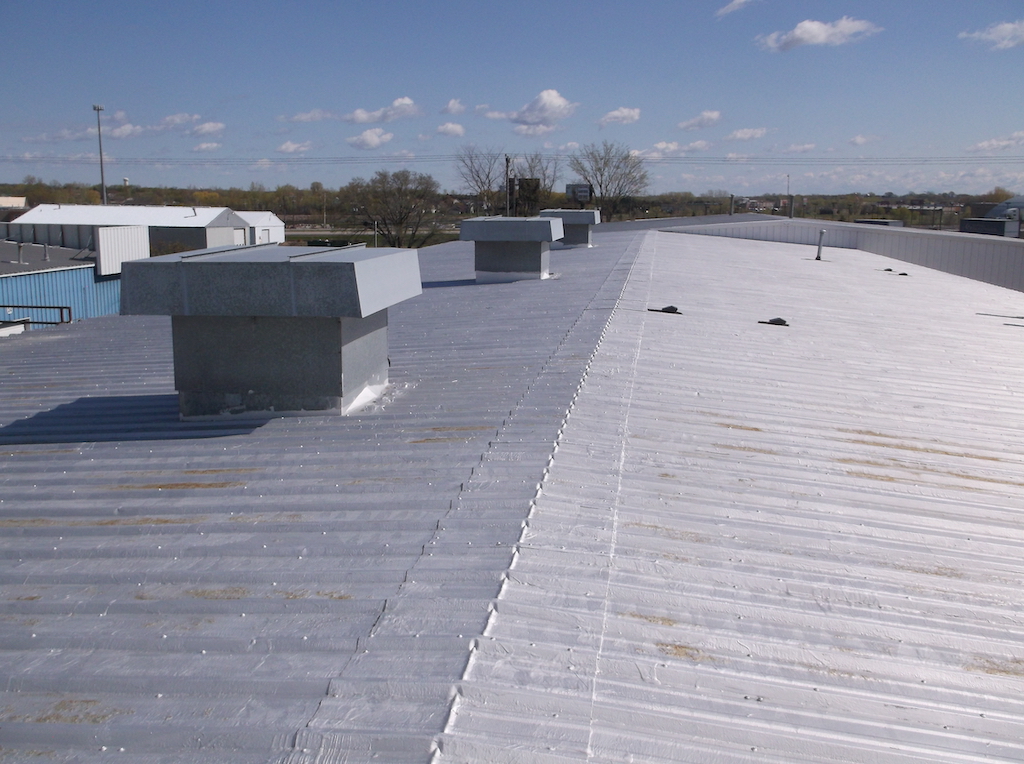 We recently completed a roofing project for Advanced Extrusion—a close tolerance extrusion house, located in Rogers, MN, that utilizes state-of-the-art equipment to produce polyester roll stock for the thermoforming and laminating industries. This project involved installing a Duro-LastⓇ retrofit system onto their aging roof in order to create a watertight seal and help with ice dams.
The Problem: Old Roofing Materials and Ice Dams
The roof on the building at Advanced Extrusion was 188,000 sq. ft. with a collage of several low-pitch steel roofs. It has multiple additions with separate building connections—some of which dated all the way back to the late 1970s.
Many of the problems they were experiencing were the result of water pooling behind ice dams and leaking into the building. They were also dealing with roof leaks in areas where two different building sections connect.
In addition, the ice dams had grown very large, causing damage to awnings and lower parts of the building, thereby posing a threat to anything in the drop zone.
The Solution: the Duro-Last Retrofit System
What was the best solution to their roofing issues? A Duro-Last metal retrofit roof system. Installing this system involved covering their existing roof with new insulation and 50 mil PVC single-ply membrane. The membrane covers all seam and fastener that can cause leaking problems, seal cracks or leaks around penetrations, and protects against rust and corrosion. The membrane is extremely energy efficient, too—reflecting up to 88% of the sun's heat and thereby reducing energy costs.
The Result: A Clean, Modern Roof System Built to Last
Since installing the Duro-Last retrofit system, the Advanced Extrusion facility now has a watertight roof. Most of the snow is moving off before it becomes problematic with preventing ice dams. Advanced Extrusion is very happy with the new clean look of the roof, as well as the warranty that comes with it.
Trust All Elements for Your Next Roofing Project
The team at Advanced Extrusion has been thrilled with their updated roof and the service we provided. Here's what they had to say:
"All Elements has been our preferred roofing contractor for several years now, and every person I have interacted with has been knowledgeable and professional. All the projects we have had them complete have been done quickly and correctly."
At All Elements, we strive to provide every client with the highest quality in roofing materials, work, and customer service possible. When it's time to inspect, repair, or replace the roof of your home or commercial building, don't hesitate to contact All Elements.