---
A Condo Roof Replacement Case Study: Stone Bay Condos
Here at All Elements, we love the clients we get to work with and are proud of the work we do. Since we recently completed a condo roof replacement project for Stone Bay Condos, we thought we'd give you a peek into that process and how we were able to meet their need for a quality, long-lasting roofing solution.
Replacing condo roofing can often be more complicated than for a single family home or commercial building. It brings up the question of who pays for roof repairs on a condo — the condo owner or the homeowner's association (HOA)? If you are a member of an HOA, keep reading to learn more about your potential responsibilities in this situation.
The Need: A Long-Lasting Condo Roof Replacement
Poor original construction and years of consistent leaks meant that finding the best and longest-lasting roofing solution was a priority for the HOA at Stone Bay Condos. The building has a combination of shingled and flat roofs, and all were in need of replacement.
A common difficulty with condo roof repairs is the lack of space to load materials, place dumpsters, equipment, and throw tear-off materials from the roof. This was the case at Stone Bay Condos as well. The building is 3 stories in most areas, with very little space for materials and equipment, so it was crucial to create a plan for the replacement that made the safety of the crew members and condo owners a top priority.
All Elements' Solution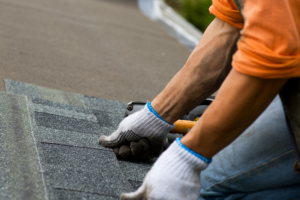 Together with the homeowner's association, we decided to work on the flat roofs and shingled roofs simultaneously so that all of the tie-ins would be done correctly. Because the roof slopes were steep, we began with the new shingles to give those crews the ability to install safety equipment. Shortly after, we started on the flat roofs. Both were completed in a safe and timely manner with minimal interruptions to daily activity.
As a result, the HOA at Stone Bay Condos now has a new energy-efficient and watertight condo roofing solution that will last for many years to come.
A Common Question: Do Condo Association Fees Cover Roofs?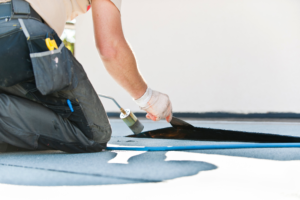 Condo roof repair or replacement isn't always as straightforward as with a typical home or commercial building. In this case, the question of who pays for roof repairs on a condo comes into play — is it the responsibility of the HOA or the condo owner?
The short answer? It depends. Most often, the roof is considered a "common element" of the property, so condo roof replacement and repairs fall under the HOA's responsibility and are paid for with HOA dues. But in other cases the cost of roof repair or replacement can fall on the individual condo owner.
Each homeowner's association has their own set of bylaws — often referred to as "covenants, conditions, and restrictions", or "CC&Rs," — which outline association and owner responsibilities for property maintenance and repair. If you are unsure if your condo roofing is covered through your HOA, it's a good idea to double check these bylaws so you can be prepared in the event that your condo needs a roof replacement or repair.
At All Elements, Inc. we can work with either the individual condo owner or the homeowner's association for roof replacement or repair. If your condo roof is in need of repair, contact us today to get on our calendar.